Tears of Guthix is an activity available after completing the quest Tears of Guthix. You can gain experience in your lowest skill once a week by going there.
Requirements
Edit
To use the Tears of Guthix, you must have completed the quest Tears of Guthix. The requirements for this are:
43 quest points,
49 Firemaking,
20 Crafting,
20 Mining
49 Crafting is recommended to make sapphire lantern
You may go there once a week and must have either 1 Quest Point or a total of 100 000 exp in any skills since your last visit.
Playing the Game
Edit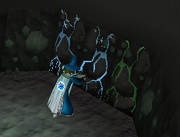 To start the game, you must talk to Juna and tell her a story. You character will tell the story of any quest you have completed. She will then give you a stone bowl (you must have both hands free, or will have to retell a story). Once you have the stone bowl, you may enter the cave. You will have a certain amount of time to collect tears, which depends on the number of Quest Points you have. For every 1 Quest Point, you get 1 second in the cave, so if you have 100 Quest Points, you will be able to collect tears for 100 seconds.
The aim of the game is to collect as many tears as you can. Collecting blue tears will raise the amount of tears you have, but green tears will decrease the amount of tears in your bowl. Once you are out of time, you will leave the cave and Juna will let you drink your tears.
When you drink your tears, you will receive experience in your lowest skill (Guthix is the God of Balance, so wishes to balance out your skill levels). The amount of experience you get is relative to the number of tears you have collected. The amount of experience per tear is related to your level in the skill, but once you reach level 30+, you will receive 60 exp per tear.
Skill Requirements
Edit
Some skills have requirements to receive experience in the skill. These are:
Construction: You must own a house
Summoning: Must have completed Wolf Whistle
RuneCrafting: Must have completed Rune Mysteries
Distractions and Diversions
Ancinet Effigies • Balthazar Beauregard's Big Top Bonanza • Champions' Challenge • Court Cases • Evil tree • Familiarisation • Fish Flingers • Penguin Hide and Seek • Phoenix Lair • Shattered Heart • Shooting Star • Tears of Guthix • Treasure Trails

Ad blocker interference detected!
Wikia is a free-to-use site that makes money from advertising. We have a modified experience for viewers using ad blockers

Wikia is not accessible if you've made further modifications. Remove the custom ad blocker rule(s) and the page will load as expected.